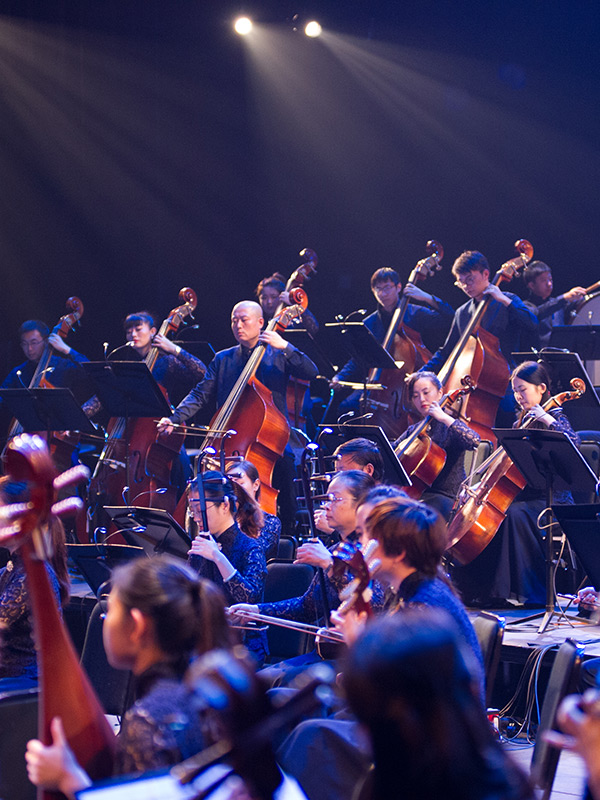 Founded in 1952, Shanghai Chinese Orchestra is the first large-scale modern Chinese orchestra in China. Being an indispensable part of Chinese music development, SHCO has always been known for its distinctive styles and masterly performances, as well as its many great artists who are revered for their significant contribution to Chinese music, such as Zhang Ziqian, Lu Chunling, Sun Yude, Gu Guanren, Min Huifen, Yu Xunfa, Gong Yi, etc.
The splendid Shanghai-style Chinese music has been inherited across generations of SHCO artists who have been devoted to this cause. They have created and premiered a line of highly-regarded, excellent works such as "Fisherman's Song of the East China Sea" and "Special Concert of Asian, African and Latin American Music".
Nowadays, SHCO has grown into a full Chinese orchestra with four parts: bowed string, plucked string, wind, and percussion. Since its first professional performance season in 2005, SHCO has accumulated a number of contemporary classics and brand projects. Meanwhile, SHCO has also launched various public welfare performances, unremittingly making efforts to popularize Chinese music. With its footprints across China and dozens of countries and regions around the globe, SHCO has been acclaimed as "the most beautiful Chinese orchestra".
In recent years, SHCO has taken it as its mission to promote the innovative development of Chinese music, putting forward the ideas of "Chinese music, contemporary temperament, and international expression", while ceaselessly seeking the contemporary value of traditional Chinese music. In the course of integrating Chinese spirits, values and undertakings into Chinese music composition, SHCO has created a variety of original Shanghai-style Chinese music brands with different styles and themes, including "New Oriental Chinese Music Scene", "Our Common Homeland", "The Bund", "Gardenia Blooming", and "Poetry, Literature and Painting in Chinese Music". These brand projects earned the reputation of Shanghai-style Chinese music in the new era. Among these works, some were performed at the opening and closing ceremonies of the China Shanghai International Arts Festival and the Silk Road International Arts Festival; some were special performances in celebration of the establishment of diplomatic relations between China and foreign countries, contributing to cultural diplomacy and cultural exchanges; some toured in countries including Britain, France, Germany, the United States, Russia, and Mexico, and were highly praised by audiences at home and abroad.
In the future, SHCO will continue to promote the rejuvenation of Chinese music, to present the new era and the beauty of Chinese music with a more open, inclusive, and pertinent voice. We look forward to meeting more kindred spirits, together with whom we will enrich our life and cultivate strength in Shanghai-style Chinese music.